Driving home from my regular girls night out I came across this 2 bed terraced property, so here's a quickie BTL deal before bed time.
Being advertised on Rightmove by our friends Goodchilds the guide price is £130,00. It's only a two minute walk to the local Two Gates Community Primary School and Ofsted have given the school a 2 rating.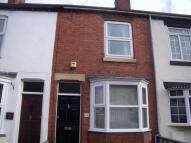 Based on the asking price and the fact that the property doesn't look in bad condition, the rent you can expect will be £575.00 per calendar month to give you a 5.30% yield. Capital gain here is pretty good too,to give you an idea the last sale of this house was back in 2007 for £95,000  and that's before the third bedroom was converted into a bathroom, making this property a 2 bed home.
If this property doesn't float your boat then look a few doors down at a similar 2 bed property which is being marketed £10,000 less?? quite a big difference in price.
Call me for a chat on 07531484956 or drop me an email 
Lorraine@hallandthompson.co.uk
, I don't bite and I love to talk property.
If you are thinking of getting into the property rental market and don't know where to start, speak to us for impartial advice and guidance to get the best return on your investment. For more information about other potential investment properties that we could introduce you to, or to ask about our thoughts on your own investment choices, call us now on 
01827 425195
, you can always email me on 
Lorraine@hallandthompson.co.uk
Don't forget to visit the links below to view back dated deals and Tamworth Property 
www.tamworthpropertyblog.co.uk